Have Your Cake and Read it Too is a bi-weekly feature that will take a book and pair it with a food whether it be savory or sweet.
Book
Pearl is a sixteen-year-old vampire... fond of blood, allergic to sunlight, and mostly evil... until the night a sparkly unicorn stabs her through the heart with his horn. Oops.
Her family thinks she was attacked by a vampire hunter (because, obviously, unicorns don't exist), and they're shocked she survived. They're even more shocked when Pearl discovers she can now withstand the sun. But they quickly find a way to make use of her new talent. The Vampire King of New England has chosen Pearl's family to host his feast. If Pearl enrolls in high school, she can make lots of human friends and lure them to the King's feast -- as the entrees.
The only problem? Pearl's starting to feel the twinges of a conscience. How can she serve up her new friends—especially the cute guy who makes her fangs ache—to be slaughtered? Then again, she's definitely dead if she lets down her family. What's a sunlight-loving vamp to do?
--------------------------------------------------------------------------------------
We're branching out here this time, and going in the savory direction. I warned you this might happen, so don't go lose your head on me or anything. Now prepare yourselves for the craziness. Are you ready?
I know, I know, it's the obvious choice. But come one, how could I resist? Plus, the spiciness of the drink kind of goes with Pearl's feisty personality.
First off, you can obviously use any recipe you want. I like this one because it's vegan. Not that I've actually tried it yet, but I plan to do so in the near future.
Second, you can obviously make it without vodka and you just have some spicy tomato drink (this is my preference and should be of anyone who isn't legal age ;])
And last, if you really aren't a savory drink lover then I'd say a berry smoothie would go with the story as well (and if you add some cranberry juice it'll add that extra personality worthy of Pearl ;])
Recipe
Vegan Bloody Mary (the title in the blog post isn't technically correct since what makes the drink a Caesar is the substitution of Clamato juice. Don't ask, I wrote a report once.)
Ingredients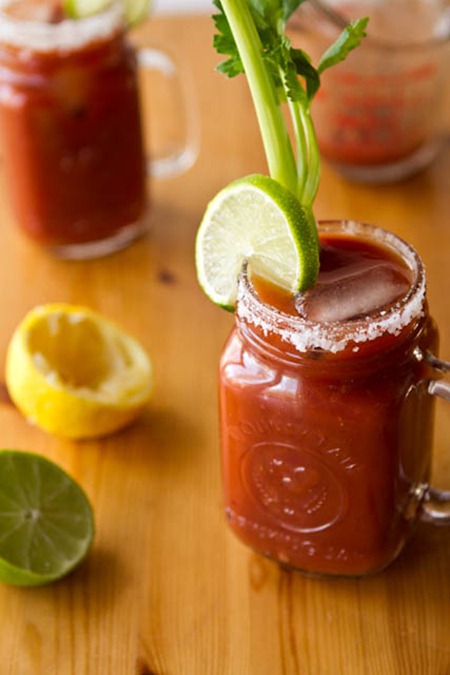 Source: same blog
4 cups (32 oz) vegetable juice
1 tbsp Dijon mustard
1-1.5 tbsp vegan Worcestershire sauce
2-2.5 tsp hot sauce, or to taste
4 tbsp fresh lemon juice
3 tbsp fresh lime juice
3/4 tsp celery seed
Sprinkle of
Herbamare
or kosher salt, to taste
Freshly ground black pepper, to taste
Vodka, to taste (optional)
Kelp granules, to taste (optional)
1. In a large bowl or pitcher, add the vegetable juice. Now whisk in the rest of the ingredients all to taste.
2. Grab two 500-ml glasses and rim the edge with a lime wedge. Now dip glass rim into a shallow bowl of celery salt. Pour drink into glasses and garnish with a lime wedge, celery stalk, and ice. Serve immediately.