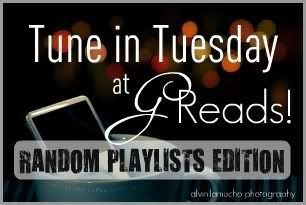 Tune in Tuesday is hosted by the awesome Ginger at
Greads
.
For the month of May Tune in Tuesday is doing it random style. I'm just going to open up my iTunes this month and pick five random songs. I won't include any holiday music since it May, though. This could be interesting...
The website doesn't seem to like doing things cohesively, so here are the songs in the way they appear:
Inseparable - Jonas Brothers
There Was Another Time in My Life - Relient K
Gives You Hell - All American Rejects
I Am One of Them - Aly & Aj
Ramblings of a Beggar - Shawn McDonald
I told you it was going to be interesting :P Yes, I was once obsessed with the Jonas Brothers and I can't quite bring myself to completely delete them on my iTunes.
I kind of love Relient K. I have all but the last album on my iTunes, so don't be surprised if they come up more during this month.
What can I say? It's a catchy song and super fun to scream along to.
I honestly can't even think of what this song is. I have an Aly & Aj album but I never really listen to it. Yes, I have problems with permanently deleting things.
I can't recall this song either. I like Shawn McDonald, but this isn't one of my favorite albums.