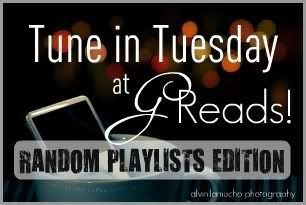 Tune in Tuesday is hosted by the awesome Ginger at
Greads
.
For the month of May Tune in Tuesday is doing it random style. I'm just going to open up my iTunes this month and pick five random songs. I won't include any holiday music since it May, though. This could be interesting...
I decided to go back to Youtube videos since the other site didn't have all the songs I wanted this week. Hopefully it doesn't bog your computer down too much.
Soul Meets Body - Death Cab For Cutie
I think I've mentioned my great love for Death Cab a time or two on here and the fact that it pops up when I randomize my iTunes just proves it even more. I quite like this song, but I surprisingly hadn't seen the video until I was making this post, but I'm glad I finally saw it :]
Mushaboom (The Postal Service Remix) - Feist

Techno Feist? I think yes. I didn't really listen to Feist before getting together with Husband, but I like her easy, mellow sound.
My First Stereo - FM Static

The first FM Static song I knew was Definitely Maybe. It was super catchy and upbeat and I loved it then I started listening to their other stuff and I discovered I liked it as well. Some of their songs are upbeat and fun to dance to and others are full of heart and deeper meaning.
Sorrow - Flyleaf

Though I don't really listen to this type of music anymore, I still have a soft spot for Flyleaf. Every once in a while I'll pull them up on my iPod and listen to them again. The lead singer has an absolutely amazing range.
Part One - Wavorly

A few years ago I was obsessed with this little-known tv show called TVU. I played all Christian bands, but not the type your thinking. It was everything for Family Force 5 to The Devil Wears Prada (yes, that's a band too) to the band above, Wavorly. Don't go judging it because I threw out the religion word, because I discovered some amazing music through that channel the above song included.