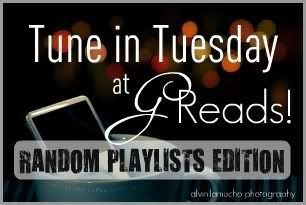 Tune in Tuesday is hosted by the awesome Ginger at
Greads
.
For the month of May Tune in Tuesday is doing it random style. I'm just going to open up my iTunes this month and pick five random songs. I won't include any holiday music since it May, though. This could be interesting...
I decided to go back to Youtube videos since the other site didn't have all the songs I wanted this week. Hopefully it doesn't bog your computer down too much.
Throw Your Hands Up - Jump5
Ahh, yet another song/band from my childhood I just can't seem to permanently delete off iTunes. What can I say, it's hard letting go :P Plus, it's super old-school, yeah, but you can still dance to it!
Myspace - Eleventyseven
I'm so glad this came up on my shuffle search! I kind of forgot about this band in the past couple years, but I used to love them so and they'll always have a spot in my heart. This song is from their first album and considering the subject matter, you can kind of tell how old it is :P
This Ain't A Scene, It's An Arms Race - Fall Out Boy

So apparently my iTunes just wants to pull up a whole bunch of my old favorite bands. I'm not going to lie, I used to be slightly obsessed with these guys. I still pull them up on my iPod every now and then too. It was kind of rebellious music for me at the time that I liked it and it still manages to bring back that feeling like their my own little secret obsession :P
Henrietta - The Fratellis

Husband introduced me to these guys while we were dating. I don't even really listen to the words, I just adore the music. It's so much different than basically everything else in my music library.
More Time - Needtobreathe

What a great way to round out and end off this mix! I just find these guys' music to be incredibly powerful. It's full of heart and soul and makes me feel all the emotions. They're music also has that perfect little bluegrass twang to it that makes it just a little upbeat while still being generally nice and calming.